Series to improve your Spanish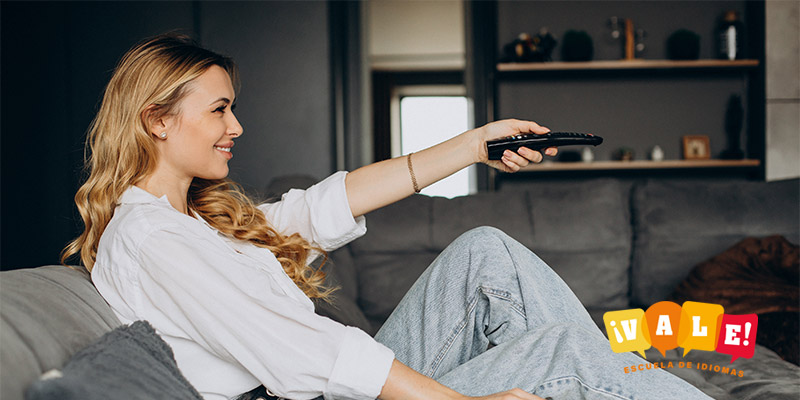 One of the best ways to get started in a new language is to see content in it. Therefore, today we bring you a list of series to improve your Spanish. In addition to learning a lot, you will end up super hooked on them.
Due to its great worldwide success, it has been rated as one of the best Spanish series of 2019. It chronicles the life of Macarena, a young woman who unknowingly committed tax fraud and was sentenced to years in prison, where she and her family will embark on many adventures.
This series is recommended for B2 level students because of the vocabulary. As it happens in prison, the vocabulary used is very colloquial with words that you will never find in the dictionary…
If you've seen Orange is the New Black and liked it, this is your series. It is considered the Spanish version of it, but with less comedy.
Another of the series to improve your Spanish that you can not miss is La Casa de Papel, one of the most mythical series.
Its plot is a heist. Yes, as in many other series and movies. But in this case, it also has a plot twist. Instead of entering the bank, the thieves broke into Spain's Fábrica Nacional de la Moneda y Timbre. That is, the building in charge of manufacturing banknotes and coins. You've probably heard of this Netflix series in Spanish as it has become known worldwide.
Apart from the plot, it has a quite complex vocabulary and some colloquial expressions.
If you like teen series, you can't miss it. The story it´s about working-class teenagers attending a private Spanish school with very wealthy students, which leads, after several events, to a murder. It consists of 5 seasons that explore concepts and themes related to teen drama.
The dialogue in Spanish has a good rhythm and immerses you in the spoken language of teenagers. Many young people identify with their characters, which makes the series much easier to understand.
One of the best series to improve your Spanish if you are a student.
We can't exclude comedy from this list. The plot of this series touches on the cultural differences within Spain and the dialect varieties in the country.
This entertaining comedy takes you through the relationship between Iñaki (from the north of Spain) and Carmen (from the south) and makes you have fun with their different stories.
The vocabulary of this series is very typical of Spain, the conversation is fast, but there are many historical and cultural references to help you get to know the country better.
A very enjoyable way to deepen the language by having a laugh with the characters of Allí Abajo.
We hope they are to your liking and you can take a look at them all.
These are some of the series to improve your Spanish that will make learning easier and more fun. You can explore platforms like Netflix and watch many others that are of interest to you. Spanish series or not, as long as you can see and hear them in this language, it will help you learn Spanish and to develop it even with dialects. It is also very helpful to watch Spanish series or films in Spanish with Spanish subtitles as well.
If you need reinforcements with your Spanish, we will be happy to help you. Tell us what you are looking for and at Vale Escuela de Idiomas we will contribute to make you achieve this with our great variety of classes, both face-to-face and online.
Do not forget to follow us on our social networks Instagram, Facebook and LinkedIn so as not to miss any news. We will help you improve your Spanish!